Know the Annual Coal Consumption of your Power Plant...
KISPL serves you at every stage of Advisory and Execution Services.
From mine to plant, KISPL delivers peace of mind.....

Coal policy in India

Understand India's coal and import policy framework through these articles

Shipping Words for the Coal Miner
Choose a term and know more about it...

Knowledge = Power…

Coal Basics

A picture is worth a thousand words.
Select a term from the list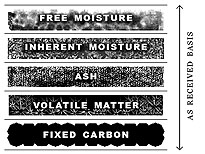 =coal that includes TOTAL MOISTURE, ASH, VOLATILE MATTER, and FIXED CARBON
Coal Conversions for Traders

Basic Conversion calculator

Word of the Day
Volatile matter The loss in mass, when dry coal is heated under standard conditions and out of contact with air. This test is empirical and results are very sensitive to operating conditions. Results obtained from different standard methods will not necessarily give the same result. The ASTM method generally gives a higher result than other methods.