Know the Annual Coal Consumption of your Power Plant...
KISPL serves you at every stage of Advisory and Execution Services.
From mine to plant, KISPL delivers peace of mind.....

Coal policy in India

Understand India's coal and import policy framework through these articles

Shipping Words for the Coal Miner
Choose a term and know more about it...

Knowledge = Power…

Coal Basics

A picture is worth a thousand words.
Select a term from the list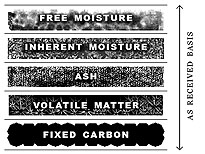 =coal that includes TOTAL MOISTURE, ASH, VOLATILE MATTER, and FIXED CARBON
Coal Conversions for Traders

Basic Conversion calculator

Word of the Day
AIR-DRIED MOISTURE The moisture in the coal sample after achieving equilibrium with the laboratory atmosphere by exposure to it. Sometimes called residual moisture. No equivalent term in ASTM, although air-dried moisture can refer to a sample dried in an oven with warm air.