Know the Annual Coal Consumption of your Power Plant...
KISPL serves you at every stage of Advisory and Execution Services.
From mine to plant, KISPL delivers peace of mind.....

Coal policy in India

Understand India's coal and import policy framework through these articles

Offices

Corporate Office

Knowledge Infrastructure Systems Private Limited,
G-02, Salcon Aurum Complex,
4, Commercial Centre,
Jasola, New Delhi-110025, India
tel +91-11-46067070
fax +91-11-41651074
Mumbai

45-46, A Wing, Mittal Court,
Nariman point, Mumbai – 400021, India

tel +91-22-40097070
fax +91-22-2285 0808

Chennai

No.-4, Anthony Street 2A,
Chandrika Chamber Royapettah ,
Chennai-600014


Knowledge = Power…

Coal Basics

A picture is worth a thousand words.
Select a term from the list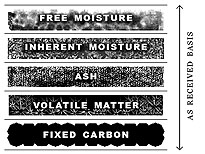 =coal that includes TOTAL MOISTURE, ASH, VOLATILE MATTER, and FIXED CARBON
Coal Conversions for Traders

Basic Conversion calculator

Word of the Day
Hardgrove grindability index Indicates the relative grindability or ease of pulverisation of a coal in comparison to coals chosen as standards. High values indicate a coal easy to pulverise and low values indicate a hard coal.