Know the Annual Coal Consumption of your Power Plant...
KISPL serves you at every stage of Advisory and Execution Services.
From mine to plant, KISPL delivers peace of mind.....

Coal policy in India

Understand India's coal and import policy framework through these articles

1. CONTEXT
Knowledge Infrastructure Systems Pvt. Ltd. ('KISPL or 'the Company') has been an adopter of Corporate Social Responsibility ('CSR') initiatives. Along with sustained economic performance, environmental and social stewardship is also a key factor for holistic business growth. As a responsible corporate citizen, we try to contribute for social and environmental causes on a regular basis. We believe that to succeed, an organization must maintain highest standards of corporate behavior towards its employees, consumers and societies in which it operates. We are of the opinion that CSR underlines the objective of bringing about a difference and adding value in our stakeholders' lives.

2. UNDERTAKING CSR ACTIVITIES
Focus Areas:
Promote education including special education and employment enhancing vocation skills especially among children, women, elderly, and the differently abled and livelihood enhancement projects.
Promote Gender equality and empowering women, setting up homes and hostels for women and orphans; setting up old age homes, day care centres and such other facilities for senior citizens and measures for reducing inequalities faced by socially and economically backward groups.
KISPL will undertake its CSR activities in focus areas as above, by providing financial support to the identified deserving persons or foundation/trusts e.g. The Justice Sunanda Bhandare Foundation as approved by the CSR Committee.

3. COMPOSITION OF CSR COMMITTEE
The CSR Committee shall consist of the following directors:
Knowledge = Power…

Coal Basics

A picture is worth a thousand words.
Select a term from the list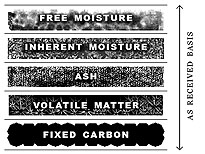 =coal that includes TOTAL MOISTURE, ASH, VOLATILE MATTER, and FIXED CARBON
Coal Conversions for Traders

Basic Conversion calculator

Word of the Day
Maximum dilatation See Audibert-Arnu dilatometer.