Know the Annual Coal Consumption of your Power Plant...
KISPL serves you at every stage of Advisory and Execution Services.
From mine to plant, KISPL delivers peace of mind.....

Coal policy in India

Understand India's coal and import policy framework through these articles

Knowledge = Power…

Coal Basics

A picture is worth a thousand words.
Select a term from the list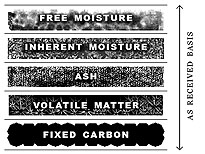 =coal that includes TOTAL MOISTURE, ASH, VOLATILE MATTER, and FIXED CARBON
Coal Conversions for Traders

Basic Conversion calculator

Word of the Day
Audibert-Arnu dilatometer A caking test most commonly used in Europe which measures the expanding and contracting characteristics of coal. Finely crushed coal is compressed into a pencil, which is heated slowly and as the coal passes through its plastic range, initially gets shorter (contracts) and then gets longer (expands).
Measurement taken are the maximum contraction and maximum dilatation (expansion) both expressed as a percentage of the initial pencil length, such that the maximum contraction is always positive, and the maximum dilatation is positive when the pencil increases in length from its initial length, and negative when the pencil decreases in length. Temperatures of initial softening (first indication of the pencil contraction), maximum contraction and maximum dilatation are also recorded. Results from this test are very sensitive to oxidation of the coal being tested.
The Ruhr dilatometer is similar to the Audibert-Arnu dilatometer, the major difference being in the compaction of the coal pencil. Ruhr dilatometers show less contraction and more dilatation than Audibert-Arnu dilatometers.